Customer Reviews
Write a Review
Ask a Question
Filter Reviews:
belt
look
feel
course
crocodile grey
Blue Gator
Cool Croc
Smell
putts
pattern
08/12/2022
Stephen C.

United States
Cool Croc
Most def coolest crocodile belt on the course. High quality leather backing and excellent notching rachet system. I now have a choice: Cool Croc or Blue Gator.
07/19/2022
Anonymous

United States
Excellent Quality
I am very happy with quality and appearance of this belt. Nexbelt has maintained their high standards.
06/13/2022
Anonymous

United States
Buy this belt!
Belt is exactly what I wanted. The look and feel leaves you with the confidence to sink those 3ft putts.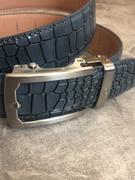 Finding Your Fit
A traditional belt will go through belt holes that are typically spaced out 1 inch apart from each other. With a ratchet belt, the buckle will lock into place on the teeth of the belt, which are much closer and allow for more flexibility and "in-between" sizes. For example, here are the steps for a Nexbelt Ratchet belt:

Find your pant size
- Add a couple of inches and then cut.
- Insert the strap into the buckle clasp.
Why It Matters for Finding the Perfect Belt
Depending on your gender and even what your dominant hand is, there are set ways belts have and should be worn for years now. Knowing which way to wear a belt can help you determine what kind of belt and buckle is perfect for your needs.
Ratchet Belts
A Ratchet belt is a belt that does not have any belt holes and uses a ratchet system, where the belt will lock into place by using the inside of the buckle. These belts often stay in place by using a latch inside the buckle that will lock onto the teeth of a belt. It also allows you to change your belt's size to a more accurate size than a traditional belt through belt holes.
Don't take our word for it
★★★★★

"As far as comfort goes, you can't really beat Nexbelt.  Their "belt with no holes" ratchet technology allows for the ultimate custom fit."
★★★★★

"I own five of these belts for a variety of situations:  from Every Day Carry to dress belts for suits, casual wear or golf... I have been wearing the Nexbelt line up of belts, and I am completely sold on how great these belts fit."
★★★★★

'Nexbelt has created some of the most dynamic, versatile and creative golf belts on the market today!"